What is Poha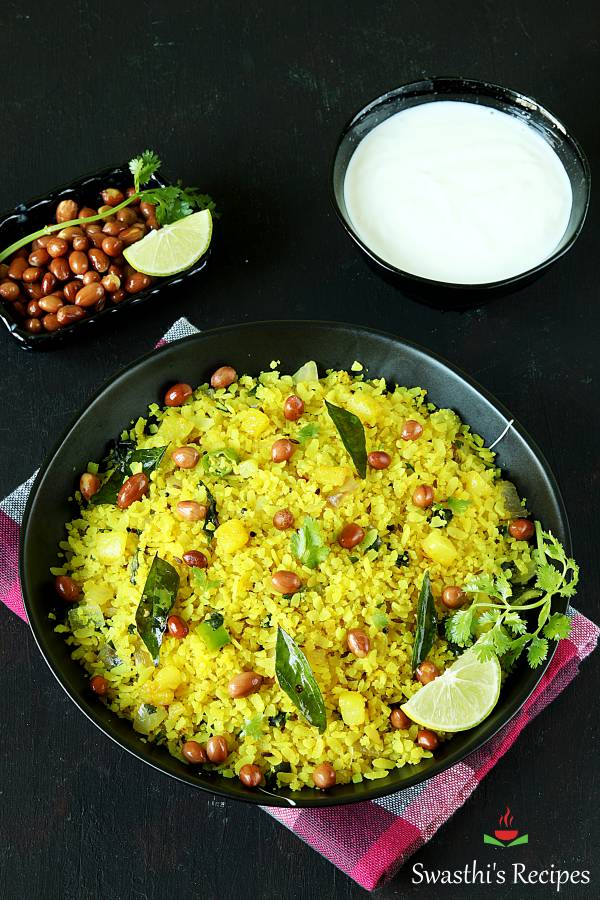 The word Poha (plural pohe) is used for two things. One is the ingredient which is flattened rice and second is this recipe or dish which I have shared here.
1. Flattened rice or beaten rice Beaten rice, flattened rice or parched rice are the different words to denote Poha.
To make beaten rice, the rice grains are parboiled and then flattened. These are like dry, crisp, thin flakes that can be crumbled or broken easily. Recipes made with flattened rice requires little to no cooking. In some regional Indian languages, poha is known as phov (konkani), avalakki (karnataka), aval (tamil & malayalam), atukulu (telugu), chira (bengali), paunva (gujarati) and as pauwa in hindi. Poha absorbs any liquids (water or milk) that they are soaked in and soften. So they can be eaten raw after soaking or cooked a bit. They are also fried or roasted and made into quick snacks like Poha Chiwda. In India, we get flattened rice easily. Making any dish with them is a breeze. If you live outside India, then you can buy flattened rice in an Indian or asian grocery store or online. There are basically two types of poha available in the market depending on their thickness. One is a papery thin version and the other is a thicker variety. While in some recipes they can be used interchangeably, but in this poha recipe, always use the thicker poha. We also get red poha or brown poha (made from red or brown rice). You can even use these to make this breakfast dish.
2. Poha Recipe Poha recipe is a light breakfast dish. Basically pohe is made by mixing flattened rice in a mix of seasoned spices and onions. It is ridiculously easy to make poha recipe. To make it more nutritious you can add boiled peas, grated carrots, roasted peanuts, cashews and garnish with coriander leaves (cilantro leaves) and grated coconut. There are many variations of the recipe. Example: If you are adding potatoes then you can either fry them or steam them. One more tasty version is Indori Poha which has fennel seeds as one of the spices. I have grown up having pohe for breakfast apart from Idli, Dosa and Upma. My mom used to make it often for breakfast or for brunch. About Kanda Poha In Marathi language, the word ?Kanda? means onions. By now you know that the Maharashtrian word for flattened or beaten rice is Poha. Hence the term Kanda Poha or Kanda Pohe. In some variations of poha recipe, potato is added instead of onions. Some people like to add both onions and potatoes. I always add red onions that give a nice sweetish taste. If you are not a fan of red onions, you can try making the recipe with white onions or yellow onions.
Step-by-Step Guide
How to make Poha
1. Rinse 1.5 cups thick poha (flattened rice) in water until they soften. Use a strainer or colander to rinse these light rice flakes. Remember not too rinse them too much or else they will break and become mushy. During rinsing, they will absorb water and soften. The poha flakes ideally should soften but remain in shape and intact. If the they do not become soft, sprinkle some splashes of water on them so that they absorb some extra water. poha being risned in a steel colander 2. Drain all of the water. The pohe should loose their crunchiness, crispiness and when you break them between your finger, they should easily get crushed or mashed. Set aside. poha rinsed well 3. Now add 1 teaspoon sugar (or as required), salt as per taste, and ? teaspoon turmeric powder to the pohe and gently mix with a spoon or with clean hands. sugar, salt, turmeric powder added to poha 4. Dry roast 2 to 2.5 tablespoons peanuts in a heavy pan until they become crunchy. peanuts being roasted in a frying pan to make poha recipe Making Poha 5. Heat 2 tablespoons oil in the same pan. Crackle the mustard seeds first. Use peanut oil or sunflower oil or any neutral flavored oil. mustard seeds crackling in hot oil 6. Then add ? cup finely chopped onions. Saut? them until they become translucent and soften. onions being saut?ed 7. Add 10 to 12 curry leaves and 1 teaspoon chopped green chilies. Saut? for some seconds. green chillies and curry leaves being saut?ed 8. Add the roasted peanuts and stir. roasted peanuts added 9. Add poha and mix gently. poha added 10. Cover and steam for about 2 minutes on a low heat. pan covered with lid for the poha to steam 11. Switch off the heat and let poha remain covered for 1 to 2 minutes. heat switched off and pan covered with lid 12. Remove the lid and sprinkle 1 teaspoon lemon juice, 2 to 3 tablespoons chopped coriander leaves and 2 to 3 tablespoons grated coconut. coriander leaves and grated coconut added 13. Mix gently and serve. coconut and coriander leaves mixed gently and kanda poha ready to serve 14. Serve kanda poha hot or warm with ginger chai or hot coffee. You can also sprinkle some sev (fried gram flour vermicelli) while serving. kanda poha served in ceramic bowl with a side of Indian chai in a ceramic mug